Each assessment focuses on specific areas, such as abilities, emotional intelligence, personality, motivations, and interests. Together we determine which one is right for you.
Highlands Ability Battery
[Abilities]
EQ-i 2.0 & 360 [Emotional Intelligence]
Myers-Briggs Type Indicator (MBTI) [Personality]
PRINT® Why of You [Unconscious Motivators]
Strong Interest Inventory®
[Interests]
Highlands Ability Battery
[Abilities]
Highlands Ability Battery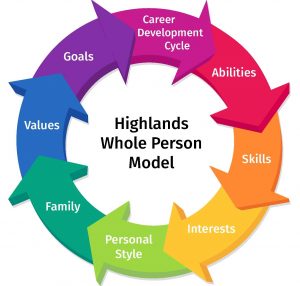 The 
Highlands Assessment
 helps determine what you do best by revealing your natural talents, gifts, and abilities. The assessment instrument shows your
cognitive strengths
and guides you towards your career options. It is an objective way to assess various qualities in a virtual online format. There is no pass/fail or good grades/bad scores. Most of the assessment is a series of
engaging online games
, called work samples. The Highlands Ability Battery assesses the performance of objective tasks that measure
natural abilities
.  The Highlands reveals your approach to problem-solving, decision-making, preferences for working alone or in groups, and learning techniques that help recall pertinent information. It's a great tool to use for future planning efforts prior to investing in an education or career choice.
EQ-i 2.0 & 360 [Emotional Intelligence]
Myers-Briggs Type Indicator (MBTI) [Personality]
PRINT® Why of You [Unconscious Motivators]
Strong Interest Inventory®
[Interests]
"The Highland was a refreshing break from the usual career aptitude tests. The game-like structure of the test kept me interested and competitive throughout each section of the assessment. The results and accompanying breakdown with Andrea helped me comprehend my results in ways that other assessments have not done. I pulled useful information about my future and my brain that I had not even considered in the past. Thanks to Andrea and the team at Highland for allowing me to grow."
Bromley
University of Pittsburgh